Pour prison, ne pour maladie,
Se pour chose qu'on me die,
Se vous peut mon cuer oublier.
St sy ne peult ailleurs penser,
Tant ay de vous veoir en vie.

M'amour, ma princesse et amie,
Vous seule me tenes en vie,
Et ne peult mon desir cesser.

Ne doubtes ja que vous oblie,
Qu'onques nulle tant assouvie
Ne fust qui me peult faire amer,
Que vous, belle et douce sans per,
Don't amours point ne me deslie.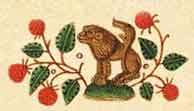 Not prison, nor illness,
Nor anything one can tell me
Can make my heart forget you.
And I can think of nothing else,
So greatly I desire to see you.

My love, my princess and sweetheart,
You alone keep me alive
And my desire can find no end.

Do not fear that I will forget you,
For never was there one so fulfilled (as I).
Who compels me to love…
…but you, lovely and gentle without equal,
In whom love does not lead me astray?